New lithographic edition printed at Helsinki Litho

Pärekori (2023)
66 x 50 cm

Read more about Helsinki Litho (link to another page)

---
The Nine Faces of Baba Yaga (from the series Et le passé revit le temps d'une visite)


The Nine Faces of Baba Yaga is a constantly changing representation of the witch's hut on chicken legs as it might be described by different people sharing the story polyphonically. It belongs to a series titled Et le passé revit le temps d'une visite (And the past comes alive again for a visit), an interdisciplinary project implemented by visual artist Markus Jäntti-Tuominen and composer Walter Sallinen between 2017-2022. Combining fine art and music, the project draws its inspiration from the birth history of composer Modest Mussorgsky's Pictures at an Exhibition. The artistic result is a ten part video piece that brings together visual and audio works created in the project and an audiovisual catalogue of Jäntti-Tuominen's visual works and Sallinen's compositions.

Click here to watch the video

Video: Markus Jäntti, Walter Sallinen & Markus Koistinen
Artwork: Markus Jäntti
Sound: 'Responsorio dell'Uccello' by Walter Sallinen & Markus Koistinen
Sound mixing: Kaj Mäki-Ullakko

The Nine Faces of Baba Yaga was part of the Roaminale #2 screening on the 24th February 2023.

---
Et le passé revit le temps d'une visite – Film Screening and Book Presentation 22.10.2022 Schwartzsche Villa, Berlin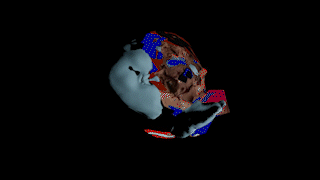 Et le passé revit le temps d'une visite (Eng: And the past comes alive again for the span of a visit) is an interdisciplinary project carried out by composer Walter Sallinen and visual artist Markus Jäntti from 2017 to 2022. The concept is based on the origin story of Modest Mussorgsky's 1874 piano work Pictures at an Exhibition, in which he reflected on a visit to a show of works by painter Viktor Hartmann. Jäntti and Sallinen, in turn, mirror this artistic experience by also combining visual art and music/sound.

The concrete result of the project is an audiovisual catalogue featuring the visual works of Markus Jäntti and the compositions of Walter Sallinen. A documentary video work will also be premiered, bringing together the visual and sound works created as part of the project.

Read more about the project